Little Scarlet Class - Reception

Click here for a video message from the Captain of Colchester United Football Club, Luke Prosser.
Thank you to everyone who has sent in photos of all the activities you have been enjoying at home!
Miss Oram's Creative Challenge 11th May 2020
Create a miniature garden in a tray using materials from your garden and small world toys.
Suggested Timetable for Self-Isolation Period
For children in Reception, I would expect them to focus at an 'academic' activity (e.g. reading, maths, writing) for no longer than 10 minutes at a time.
Here is a guideline which you can use to form your expectations of what your child should aim to achieve in a day:
10 mins of reading (Bug Club, Phonics Play website activity, tricky word hunt in a book/newspaper)
10 mins of writing (letter formation, spelling single words that you call out, writing a sentence every day e.g. I can see a...For dinner I am having...)
10 mins of counting (split across the day e.g. count the peas on your plate...what is one less than you age? What is one more than our house number? Use your fingers and tell me 3 + 5, 7 +9 etc...) Lots of mental maths questions that you can feed into your day.
Something physical Try to incorporate some daily movement into your child's day. Use this time to talk about healthy choices (one of the Early Learning Goals).
If you have access to the internet, take a look at Cosmic Kids Yoga on Youtube. This lady has uploaded loads of yoga videos for KS1 children. Little Scarlet have done these before and loved it.
Other ideas - walk for half an hour if you can do so safely.
Click here to see initiatives from Active Essex that support the whole family.
Check out ColchesterSSP twitter page for weekly activities to keep active.
Here is a link to Twinkl's home learning hub where you can gain access to a physical activity log and some 5 minute move workout cards.
Joe wicks has started a daily PE lesson on Youtube! https://www.youtube.com/channel/UCAxW1XT0iEJo0TYlRfn6rYQ
Something Creative painting, junk modelling, collage, colouring...all of these things are wonderful outlets for children's energy and build their finger strength at the same time. Try to encourage your child to engage in something creative every day.
Something Chatty! At school, a child is exposed to chatter all day long which, unbeknownst to them, builds up their vocabulary and communication skills at a rapid rate. To maintain this level of progress at home, talk to your child as much as possible. Crucially, ask them lots of of open-ended 'how' and 'why' questions so that they have to respond with something better than a 'yes' or 'no'!
Remember, there are two documents on the right hand side of this page with lists of activities that you can use to fulfil each of these areas of learning. I will also keep updating Bug Club, Mathletics and send out ideas via Marvellous Me for things you can do with your child.
Please leave a comment in the box below if you need a new set of login details for Marvellous Me, Bug Club or Mathletics.
OPTIONAL Daily Project Book Challenge
Friday, 22nd May 2020
Today is Friday and the last day of this half term. Why not celebrate by having a go at something crafty? Have a look at these colourful and simple projects you could try at home:
Foil-covered cardboard fish: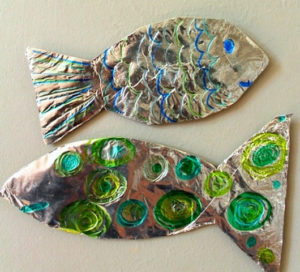 Fruity boats: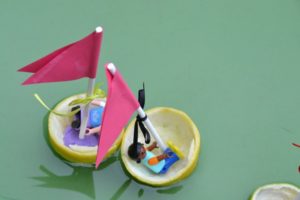 Toilet roll tube houses: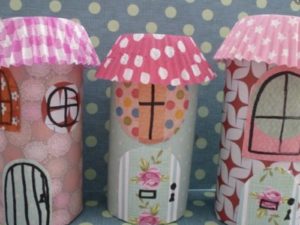 Have fun!
Miss Chetland
Here is a link to our EYFS Long Term Plan: EYFS Curriculum Map Unedited.docx
Useful documents can be downloaded below:

First 100 high frequency words
This document or the website below are useful resources for helping children to remember the sounds we learn in class.
http://www.slideshare.net/azlinaruzlan/jolly-phonics-actions-ppt
OPTIONAL Daily Phonics Challenge
Friday, 22nd May 2020

Today, we are reviewing the sounds ai, ee and igh
Today's tricky word is when
Here is a brilliant phonics video lesson for reviewing the 'ai,' 'ee' and 'igh' sounds that you can do at home:
https://www.youtube.com/watch?v=avg7f4o6Zb0
Say it: take it in turns with another adult to say a few words which include the above sounds.
Read it: ask an adult to write down some words with these sounds in them for you to sound out e.g. rain, stain, feet, bleep, sight and fright
Write it: Can you think of a silly sentence that includes an 'ai,'ee' and 'igh' word and today's tricky word? Post your silly sentence below! The sillier, the better and I'd love to see what you think of!
See the blog below for some brilliant sentence by Arya, Emma and Annabelle! And well done to Noah and Lucy for your recent efforts as well!
Links to useful learning websites for lockdown period
www.purplewatermelon.co.uk is a website created by experienced head teachers and features loads of engaging, creative and active tasks for children of all ages to try at home.
Ideas I have compiled myself for LS class: Home Learning Activities for Little Scarlet Class.docx
The learning ideas children were sent home on our last day at school: Home Learning Project Inset.docx
Phonics games:
https://www.phonicsplay.co.uk/
Username = march20
Password = home
Reading - books have been allocated to every child. Go to www.activelearnprimary.co.uk and use the login details which should be attached to the inside of your reading diary to access the resources.
Handwriting - Handwriting Patterns.docx
Maths - https://login.mathletics.com/
Latest News and Updates
Thursday, 23rd April 2020
Priti Patel, the MP for Witham, has released details of her annual Get Witham Reading challenge. Please find details in the letter attached below:
Letter to Parents RE Priti Patel Get Witham Reading 2020.pdf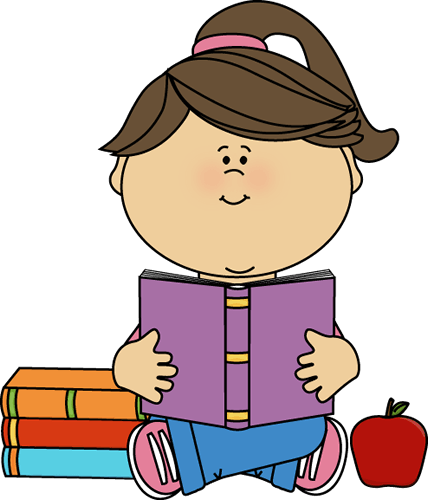 Comments (122)
Show Comments
Edward S-R
(a couple of days ago)
Edward has been learning to ride his bike this week.
Emma
(a couple of days ago)
Were you going to listen for thunder later the louder the better the stranger might get wetter
Miss Chetland
(a couple of days ago)
Good morning, Annabelle and Emma! I really enjoyed reading all of your silly sentences this morning. Well done! Annabelle and Hannah, I will sort out some new books for you on Bug Club this morning. Keep up your super effort with reading! Miss Chetland
Hannah K
(less than a week ago)
Dear Miss Chetland. please could Hannah have some more mathletics and bug club. Thankyou
Annabelle
(less than a week ago)
We WERE told nature will secure the cure, pure manure, are you sure?
Emma
(less than a week ago)
Were you sure the cure was pure in the picture.
Annabelle
(less than a week ago)
Miss Chetland can i have some more books on bug club please?
Annabelle
(less than a week ago)
Clair cuts hair upstairs in pairs in her chairs, do YOU think that is fair?
Annabelle
(less than a week ago)
did YOU hear the dear bear feared he had a big rear? he ate a pear and it disappeared.
Emma
(less than a week ago)
You can hear me with your ears when my tears are near.
Show More Comments
Our learning behaviours are: Make Good Choices, Learn Together, Stay Focused, Be Proud, Show Respect, Never Give Up.